PROMOTIONAL MATERIAL
To improve your promotional results in Cachoeiro Stone Fair it is important to anticipate your planning for assertive actions during and after the event.
To expand your promotion in the event we are providing the following materials:

Advertise your company participation in the event along with your booth location;

Add on the company's email signature the event logo, inviting your clients to visit your booth at Cachoeiro Stone Fair 2015. This can became a viral marketing!

Include a promotional ad of the event on the company's website or on email marketing.
Logo:
---
Banner JPG - 640x135px

---
Banner JPG - 210x150px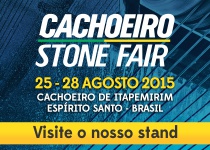 To download the files, give a right click on the image and "Save link as" or "Save Image as".